Update 11/13: Catch the sneak-peek video.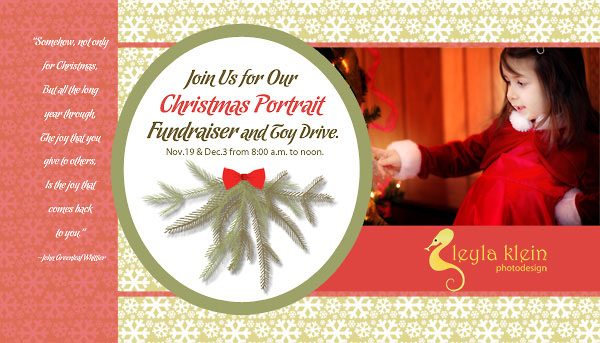 Create beautiful memories with your loved ones while sharing the love with others by participating in our two-day fundraiser.
We are holding fun, creative and heartwarming Christmas Portrait mini-sessions for your kids or for the kid in you! The Forgotten Initiative.Champaign County (TFI.CC) just completed their first Project Sunshine DCFS. The Urbana DCFS office now has completely transformed interview rooms and more changes are coming. TFI.CC is committed to serving the children and adults in the foster care community. Please join us to help support their efforts.
Dates
November 19 and December 3
Reservations
1. Reserve your 20 minute session online.
2. Mail $49 booking fee to:
Leyla Klein Photodesign
713 S. Walnut St.
Urbana, IL 61801
3. Your reservation will be confirmed by email upon receipt of your booking check.
4. Enjoy your scheduled session at the studio in downtown Urbana:
110 South Race St
Urbana, IL 61801
(across Race St. from Busey Bank)
What does the $49 cover?
$25 is donated to TFI.CC and the remainder ($24) serves as a credit for your portrait order.
Donate a toy
You may also support Champaign County children in the foster care by bringing a new unwrapped toy.
Special event package pricing
The first package in an order is $74, second package is $54 and third or more are $24. (Packages must be purchased at the same time to be in the same order.)
A package includes a single pose of the following:
- an 8×10 portrait
- two 5×7 portraits
All portraits except wallets are printed on archival textured paper and covered with a protective coat. These portraits are not mounted, but mounted portraits are also available at our regular prices.
Win free Christmas Cards
Enter our drawing for a free set of Christmas Cards!
Referral gifts
We will thank you with a free 5×7 portrait for every person who books and mentions your name.
Will you "Like" us?
Visit our new Facebook page!